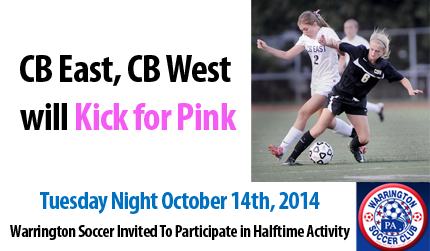 The CB East and West Girls Soccer programs are hosting a Kick for Pink breast cancer awareness game on October 14, JV ~ 5:30 and Varsity ~ 7:00, at War Memorial Field.
This night promises a great night of girls high school soccer along with honoring women who have survived breast cancer or who are remembering a loved one. A drawing for two baskets containing custom hand knit blankets, the snack bar and lit luminaries with personalize messages, will all be part of this evening's efforts to raise funds to support breast cancer patients at the Cancer Institute of the Doylestown Hospital.
While giving back to the community, the CB East and West Girls Soccer programs also wanted to include the Warrington Soccer Club to attend and participate in our half time activity. We are inviting any soccer players, age 11 and under, who is wearing their travel jersey, to come out onto the turf, during the Varsity halftime and take a PK on our goalies. All Warrington Travel Soccer players wearing their Warrington Soccer Travel jersey will receive free admission to the game.
We want to share the lights of the field and the cheer of the crowd with our young players. Many of our East and West team members either started their soccer careers playing for Warrington or is still a current member. We look forward in seeing you in the stands and out on the field. Thank you in advance for supporting Kick for Pink!