Warrington Union U14 Boys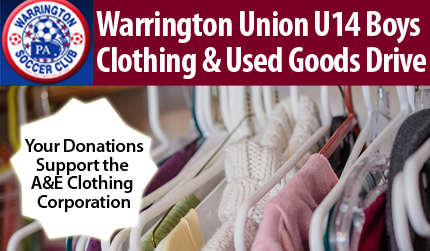 The Warrington Union U14 Boys team is currently having a Clothing & Used Goods Drive Fundraiser with A&E Clothing corporation. A&E specializes in processing used clothing and other used goods and then donates them to developing countries such as Ghana, Honduras, Haiti, Mexico, parts of the US and Eastern Europe. We are reaching out to other members of the Warrington Soccer community to see if you may be able to help.
What better time than the present to do some Spring cleaning and donate your items to the collection drive. Listed below are some of the items that A&E will accept, as well as a link with more details on how the collection works and what they will and won't accept. Anything you have would be greatly appreciated by the team, even if it's just one bag. It all adds up and goes toward a good cause.
All items must be collected by

May 9

.
Feel free to pass this information on to anyone else you know who may be looking to do some Spring cleaning.
If you have items to donate, please contact Andrea Snyder (
asnyder108@hotmail.com
) or Maria Kalinowski (mekalinowski@yahoo.com) by email to arrange a drop off/pick up time. We can pick up items at any of the Warrington soccer fields or arrange another convenient time/location to collect your items.
USABLE AND WEARABLE CLOTHING AND SHOES FOR ALL SEASONS AND ALL SIZES!

Accessories
POCKETBOOKS BELTS BABY ACCESSORIES
BACKPACKS HATS SCARVES
BRIEFCASES GLOVES TIES
HANDBAGS

Household Items
BLANKETS TABLE CLOTHS BED SHEETS
DRAPERY CURTAINS PILLOWS
TOWELS SMALL RUGS QUILTS
COMFORTERS POTS AND PANS TOASTER, BLENDER

Toys
ALL SOFT AND HARD TOYS CHILDREN'S ACTIVITY SETS
BEANIE BABIES RAG DOLLS STUFFED ANIMALS
ACTION FIGURES, CARS, TRUCKS, AIRPLANES DOLL HOUSES
DOLLS OUTDOOR BICYCLES OF ANY SIZE

HARD TOYS SHOULD FIT A BOX 24"X24"

REMINDER: WE DO NOT COLLECT THE FOLLOWING ITEMS
VCR TAPES CDs BOOKS
OVERSIZED PLAY SETS OR OUTDOOR PLAY SETS CAR SEATS
WORKOUT/EXERCISE EQUIPMENT