Warrington Soccer Club Night at the Union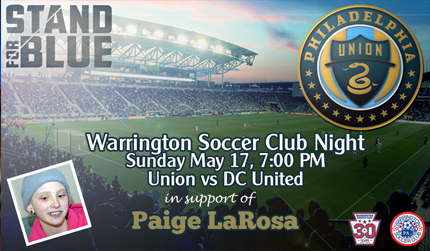 /
Paige LaRosa is a soccer player. Paige LaRosa is a sixth grader. In early February, Paige also learned that she is a cancer patient. Diagnosed at just 11, Paige has been waging a courageous battle with ovarian cancer for the past several months. She has been strong and maintained an extremely positive outlook since day one.

When Warrington Soccer Club learned that one of our own was facing such a difficult challenge, we knew we needed to find a way to help. That's why we hope you'll join us at Warrington Soccer Club Night In Support of Paige LaRosa at PPL Park on May 17th when the Union take on DC United.

Through our partnership with the Philadelphia Union, the club has secured 150 tickets at a cost of just $32 per ticket. By purchasing a ticket, you will be helping Paige as a portion of the proceeds raised from ticket sales will go to support the LaRosa family.
Please come join us and Paige for a night of fun at the Union game.
Schedule of Events

4:00 PM Warrington Soccer Club Tail-Gate Party
Join us right outside the Supporter's gate starting at 4:00 PM and gather for fun and games prior to kickoff. The club will not provide alcoholic beverages at the tailgate party. You may bring your own.
7:00 PM Kickoff Philadelphia Union vs. DC United

Philadelphia Union Ball Boy / Girl Opportunity

Since it will be Warrington Soccer Club Night at PPL Park, the Union have provided us with the opportunity for our club's players to be the Ball Boys and Girls for the game. The players must be between 12-14 years old and played Travel or Intramural for WSC in the Fall of 2014 or Spring of 2015. You can enter your child for their chance to be selected on the ticket order form.
If You Would Like To Help But Are Unable To Attend The Game

We invite you to support the LaRosa family by making a donation on the GoFundMe page we've set up for them. Simply go to http://www.gofundme.com/s3kjwc and make a donation. Every donation helps the LaRosa family support Paige in her courageous battle with cancer.
Tickets will be sold on a first come first serve basis. Deadline for purchasing is May 15th, 2015 at 5:00 PM. If you have any questions about the event, please contact Michael Price at wsc.michael.price@verizon.net.