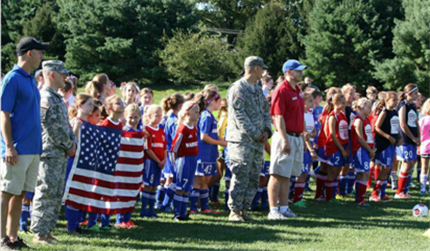 Warrington Soccer club in association with the AAGP Helping Hands Committee Presents:
Soccer 4 Soldiers
4v4 Soccer Festival - Saturday, August, 23rd 2014
Supporting Operation HomeFront of PA/DEL
The 3rd Annual Soccer 4 Soldiers Fundraiser and Community Family Day
Soccer 4 Soldiers is about hope. We hear a lot about it. Our service men and women provide it to us because of the service they give to this country. But for many families of servicemen and wounded warriors, sometimes there is very little hope. Transitioning into a life with a spouse deployed over seas, killed in action or being a veteran coming home to a world that for you is different than the one you left, is a traumatic and gut wrenching experience. Sometimes you don't know where to turn. Sometimes you need a little help.
That's where Operation Homefront (OH) comes in. OH is a charitable organization that provides emergency financial and other assistance to the families of our service members and wounded warriors. Through widespread public support and a collaborative team of exceptional staff and volunteers, their sole aim is to become the provider of choice for emergency financial and other assistance to the families of our service members and wounded warriors. Where there is a need that OH cannot provide they will partner with others for the benefit of our military families.
And providing help to these families and veterans is a costly job and one that should be supported by any organization and that's why the Warrington Soccer Club along with the Apartment Association of Greater Philadelphia have teamed up to sponsor Soccer 4 Soldiers.
Soccer 4 Soldiers is a day long 4v4 soccer festival for boys and girls ages 7 – 14. The proceeds raised through registration fees and donations will all go to support the Pennsylvania and Delaware Chapter of Operation Homefront.
The festival is broken into two halves with the younger kids playing their games before lunch and the older kids after. During lunch, there is a coaches versus veterans game that will be the highlight of the festival. In addition to the festival there will be carnival games and concessions for everyone who just wants to stick around and aid a very good cause.
Come and enjoy a fun filled day featuring:
Concession stands with Breakfast, Hamburgers, Hot Dogs, Pizza, Candy & Drinks
Free Carnival Games including - World Sport Game, Dunk Tank, Pony Hop Races, Duck Pond, Kiddie Striker & More
Individual Skill Challenges & Juggling Contests