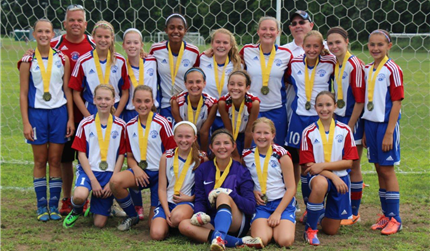 The Warrington FC Bombers are starting to shine as they compete in their Summer Tournaments.
The U13 girls first competed in the Pocono Cup Soccer Tournament on July 19th & 20th, 2014. After a win (2-1) and a draw (1-1) on day one, the girls played to two clean sheets on Sunday, winning 3-0 and 1-0, and walked away with a much deserved championship.
Next came the Lou Ramos Classic in Allentown, PA on August 8 & 9th, 2014. The girls again came to play and after a hard fought weekend with two wins and two draws, the Bombers finished as runner's up to the host club, Lehigh Valley United.
Wish the girls well as they head into another tournament this weekend and prepare to start the fall season.
Pocono Cup Champions - Warrington FC Bombers
Lou Ramos Classic Finalists - Warrington FC Bombers