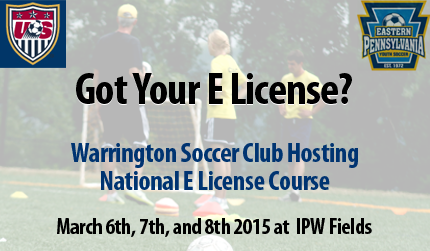 Warrington Soccer Club To Host
National E License Coaching Education Course
March 6th, 7th, and 8th 2015 at IPW Fields
U.S. Soccer Coaching certification begins at the state level. The National "E" is an 18-hour course, which covers the elementary principles of coaching and prepares interested coaches for the 36-hour "D" license course. Warrington Soccer Club is set to host the "E" License course in March 2015.
What is the "E" License?
Develop the core coaching competencies necessary to effectively teach the 9-12 year old athlete and team
Understand the characteristics and needs of an athlete in the Basic Stage of our Long Term Athlete Development Model
Establish a foundation of knowledge and experience in order to proceed through the sequence of coaching development courses
What are the specific target outcomes of the course?
Understand and effectively apply the principles of Long Term Athlete Development
Demonstrate competency in planning an age-appropriate training session
Demonstrate the essential competencies to execute a team training session that is focused on a technical function of the game
Understand concepts and recognize the principles of attacking and defending in a small-sided game environment (3v3 to 9 v 9 adaptable to local competition structure)
To Register for the March "E" License course hosted by the Warrington Soccer Club, visit the EPYSA Course Education Page and click the "Scheduled Courses" tab in the left navigation..

For more information on the National E License Course, visit the EPYSA "E" License course description.