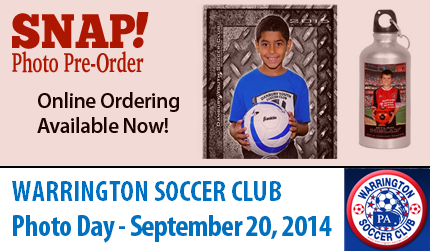 Once again Warrington Soccer has partnered SNAP! Sports and Event Photography for the upcoming photo day on Saturday, September 20th, 2014 at Jamison Elementary School. We kindly request that you advise your players NOT wear their cleats inside the school.
Date: Saturday September 20, 2014
Location: Jamison Elementary School
2090 Land Road, Jamison, PA 18929
Time: See schedule
Schedule
The Photo Day Schedule is ready and finalized.
Click Here For The Photo Day Schedule
Please remember – no cleats may be worn in the school
New Online Ordering from SNAP! Photography
SNAP! Photography has instituted an additional ordering method for team photos that we would like to share with Warrington Soccer for the upcoming photo day. This ordering system does not replace the order form distribution, but makes it a convenient method for those parents who would like to purchase and place an order for additional photos before picture day online so they do not need to complete the traditional order form.
Simply go to the link provided below, place and pay for your order online, print out the receipt and bring a copy of the receipt to the photo day. Instead of handing in an order envelope, you will hand the photographer a copy of your receipt for the online photo purchase.
Click Here To Order Your Pictures Online
Note, if you are ONLY selecting the free Memory-Mate and not purchasing additional photos, you do not use this system. You must complete the order form supplied to you by your coach. That form must be handed into the photographer by your son or daughter so we can keep track of every player photographed.
Here is the link: https://preorder.snapactionpix.com/?job=warrington-soccer
Please Support Our Shoebox Recycling Program Fundraiser
Warrington Soccer Club has partnered with Community Recycling and their Shoebox Recycling Program for a fundraiser. Bring your paired old cleats, shoes, boots on picture day to Jamison and simply drop them in one of the Shoebox Recycling Program collection boxes. This is a great charity and we are happy to be partnered with them. Please help us support them by donating your old shoes! Visit here for more information or contact Jodi Curry at 215-805-0204.