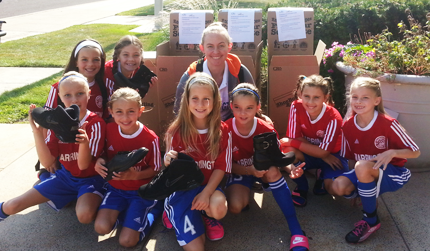 Do you have shoes in your closet that should have been disposed of? Well, we all do, and now we have a really good use for them. Warrington Soccer Club has partnered with Community Recycling and their Shoebox Recycling Program.
Community Recycling is a program that works with the collection of quality, paired shoes destined for REUSE, and promotes the ShoeBox Recycling Program in our community.
Community Recycling provided the collection boxes to the Warrington Soccer Club and we, with your help, just dontate the shoes or cleats by placing them in the collection boxes. It's that simple!
The ShoeBox Recycling Boxes will be placed at Jamison Elementary on Septemeber 20th, 2014 for Picture Day
**** Please no big winter boots, UGG boots, rubber boots, big fuzzy slippers, ice & roller skates, slippers, flip flops or moldy shoes or with holes/rips. Shoes must be wearable and in pairs. We now accept all types of cleats.****
Any questions: Please contact Jodi Curry @ 215-805-0204